Full featured, privacy friendly OCR scanner app
Fast, powerful, respectful.
Edge detections & automation
Your documents are automatically recognized by QuickScan, saving you the pain of adjusting edges manually. After scanning, QuickScan can automatically name and file your documents. Ex: save to your work cloud drive, your private NAS, ...
Text recognition (OCR) & integration
The super efficient OCR of QuickScan allows you to recognize text on images. Moreover, when exporting to PDF, QuickScan will smartly integrate the recognized text, making your PDF searchable and selectable (copy/paste).
Sign documents & protect them
Sign your documents using your finger or an Apple Pencil. Don't worry, you can protect your signatures by requiring QuickScan to authenticate via Face ID or Touch ID.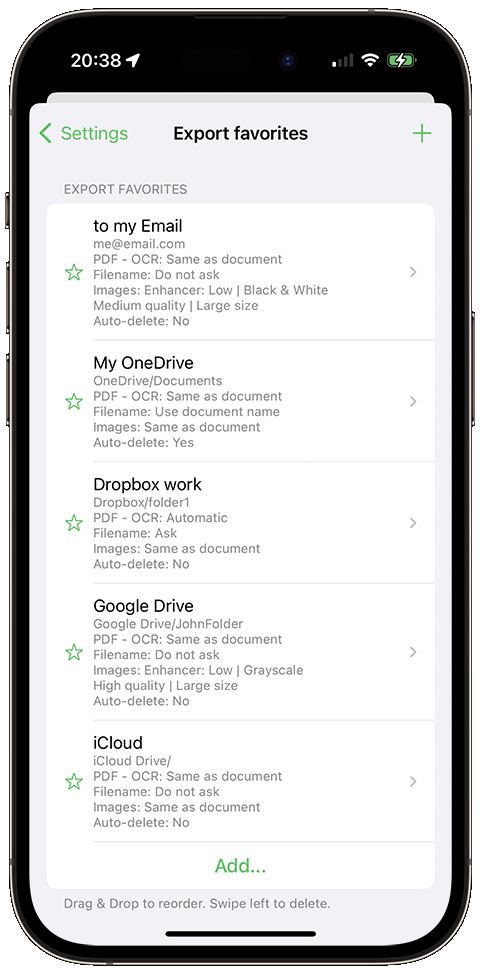 Save countless hours
The speed and the automation possibilities provided by QuickScan will save you a lot of precious time.
Endless Possibilities
You have complete control on all functionalities that provide endless customization for optimizing your workflow.
Cloud support
QuickScan supports a lot of destination for automatic upload: iCloud Drive, Dropbox, OneDrive, Google Drive, WebDAV, Email, pCloud, NextCloud, NAS, Synology, SMB, Paperless-ngx...
Reviews
4.9/5 AVERAGE
18K+ RATINGS WORLDWIDE
Pikaroth, 07/29/2022
A MUST HAVE app!
I cannot stress how amazing this app is and also simple to use! The scanning is second to none, and today it was actually needed as part of my professional life. I've had to work from home this past week, and I was required to scan and then in a multi-page document. Do I drive 40 minutes to work just to use the scanner? Nope! Fired this up on my iPhone 13 Pro, scanned the pages, it put them together on a PDF with a simple button press, and I sent it as an email. That was that. Yes, there are other apps that scan out there and do similar things, but none bring it together like this! Easy to understand and navigate, no ads (but you can, and should, donate!), and there when you need it! There is no reason to NOT have this on your phone!
pt_8string, 03/17/2023
Great app highly recommended
Does exactly what it says. It does produces PDFs that are manageable in size. Offers password protection, and immediate sharing via various methods.
Bob, 12/14/2022
Amazing user experience
One of the things I love about QuickScan is the lightweight and "default iOS" feel it has to it - it's so snappy compared to any other scanning app out there! Keep up the awesome work, and I look forward to future updates!
Scott1155, 08/31/2021
QuickScan Is An Excellent App!
iPhone 12 Pro, iOS 14.7.1 - I was happy with my scanner app and was not looking for a new scanner app but I'm glad I found QuickScan. This app is excellent in every way. The app is small in file size, produces excellent quality scans, is intuitively laid out, is full featured, and just works without any messing around. The developer impresses me as an honest person that put their heart and soul into this app. I was so impressed with this app that I purchased the developer a "book" within 30 minutes of downloading this app. My thanks to the developer for a well thought out app that is simple to use and works great. Job well done!
Stananasje, 04/12/2023
Fantastic APP!
The best free APP available. Including OCR and providing high quality PDF, and still keeping the size of the files low. Automatic scanning and adjusting - love it!
Jacob Meehan, 03/21/2023
Works flawlessly
No ads and no tracking, what more is there to say?
clejm, 03/31/2023
Outstanding - best scanner app
I have tried all the scanner apps over the last year. Each one had something missing. This app does everything I need including OCR and automatic upload to location of my choice. The developer is very responsive if you have any questions. Highly recommended
Kumamayo, 02/07/2023
Fast easy and simple
Better than many other apps from large companies.. Simple to use and easy to get very clear images and scans. Editing is also a breeze.
Stevewe taco, 04/13/2023
Easy and works
It fixes any parallax issues, auto crops, and saves to pdf. I can export to Google Drive and it has no ads. It's great!
knnwllc2022, 03/30/2022
Fantastic
I've only had it for a couple of hours but it works so well. Airdropped it onto my laptop and can search for words in the documents which is very handy. Great.
Paperless. Efficiently.
Save huge amounts of time thanks to QuickScan speed, ease of use, and automation functionalities. Get rid of paper easily.
Automation as your assistant.
QuickScan can be a very efficient personal assistant. Thanks to its smart automation features, it's never been easier to scan and file documents.
Thanks to widgets/shortcuts, you can even configure different triggers for scanning. Each trigger is associated to an Export Favorite that will apply preconfigured settings and destination, when you are done scanning. Wow! Filed, automatically, in seconds.
You are in control.
Everything happens locally, on your device. You control & configure everything that happens. Your documents remain private thanks to the abscence of data collection. Need more security? You can set a password on the exported PDF. That's not all: Face ID / Touch ID protection of QuickScan is also possible, to ensure that only you can access your documents.
Free.
Donation-based.
QuickScan is offered for free, to help people in need that cannot afford the right tools (ex: students). The whole power of the app is thus completely available. Donators get rewarded with some extra non-functional features like changing the app color, ...
Frequently Asked Questions
Is QuickScan free? What about enterprises?
Yes, and you can access all functionalities of the app for free. However, donations are encouraged for the app to receive updates.
There is a specific version of QuickScan (QuickScan Enterprise) that can be purchased by enterprises through Apple Business/School Manager and eligible to the VPP (Volume Purchase Program). Businesses are required to purchase that licenced version of QuickScan.
Does QuickScan collect data?
NO! QuickScan has a zero data collection policy. Everything happens on device. Until of course, you decide to export a document somewhere...
Is there an Android version of QuickScan?
Currently no. QuickScan has been engineered from scratch for iOS. This is why it integrates so well within iOS.
How can it be that quick?
Because it is a native iOS app (i.e.: built only for iOS, thus using the most efficient tools), and very optimized.